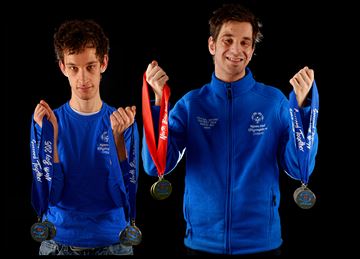 Brampton Guardian
NORTH BAY – Four Brampton Special Olympians recently attended the Special Olympics Ontario (SOO) Winter Games in North Bay, bringing back 13 medals.
Benjamin Paribello and his brother Nicholas Paribello were among the cross-country skiers battling the -30C temperatures. Both did well, Nicholas in skate skiing and Benjamin in classical skiing.
They were competing for the Barrie Striders team in the South Central region. Benjamin claimed double gold in the 500 metres classic and 3 x 1 km relay classic with silver in the 100m and 1 km classic. Nicholas won four silvers in the 1k, 2.5, 5k and 3 x 1k freestyle relay events.
Both credit their exceptional fitness to their participation in Special Olympics Ontario bowling and SOO track and field in Brampton, twice weekly training in Barrie and personal training with Kerry Dennie's Let's Get Fit in Georgetown.
Brothers Jared and Matthew MacMichael, who have recently moved to Brampton from Sault Ste. Marie, also participated and earned medals. Jared, competing for the North East Ontario District earned all medal colours with two golds in the 7.5 km and 3 x 1 km classic relay events, silver in the 5 km classic and bronze in the 2.5 km classic.
Matthew, competing with the Sault Ste. Marie Sliders curlers, helped that team to gold in its division.
The athletes now anxiously await the roster for the National Games scheduled for February of 2016 in Corner Brook, Nfld., hoping for their chance to compete there.